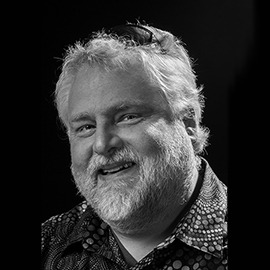 Sam Nettles is a painter and a nationally recognized representational sculptor specializing in portraiture and figurative art. He received his BFA from the University of South Alabama and then completed a five year post
graduate course of intensive figurative studies at the Lyme Academy of Fine Art. His accolades include the Johnson Figure Sculpture Competition Silver Medal, the National Sculpture Society's Walter and Michael Lantz Award and the Roger T Williams Prize. In addition, he and his work have been featured in The National Sculpture Review, 500 Figures in Clav.volume 2 and The Masters of American Sculpture. Nettles has been commissioned to sculpt noteworthy people such as John Glenn, Pappy Boyington, Ernest Hemingway, Christa McAuliffe and the NASA Challenger Crew. His work is in numerous private and public collections including: churches, universities, The Buehler Challenger Center,and the National Museum of Naval Aviation, which has commissioned 27 separate bronzes. Among his monumental public sculpture commissions are a heroic jaguar created for the University of South Alabama, The Hawkshaw Lagoon National Missing Children's Memorial and the seven over life size bronzes that make up The Santa
Rosa Veteran's Memorial. He has taught life drawing and artistic anatomy, as well as creative, life and portrait sculpture. Currently he is teaching at the First City Arts Center and Pensacola State College.