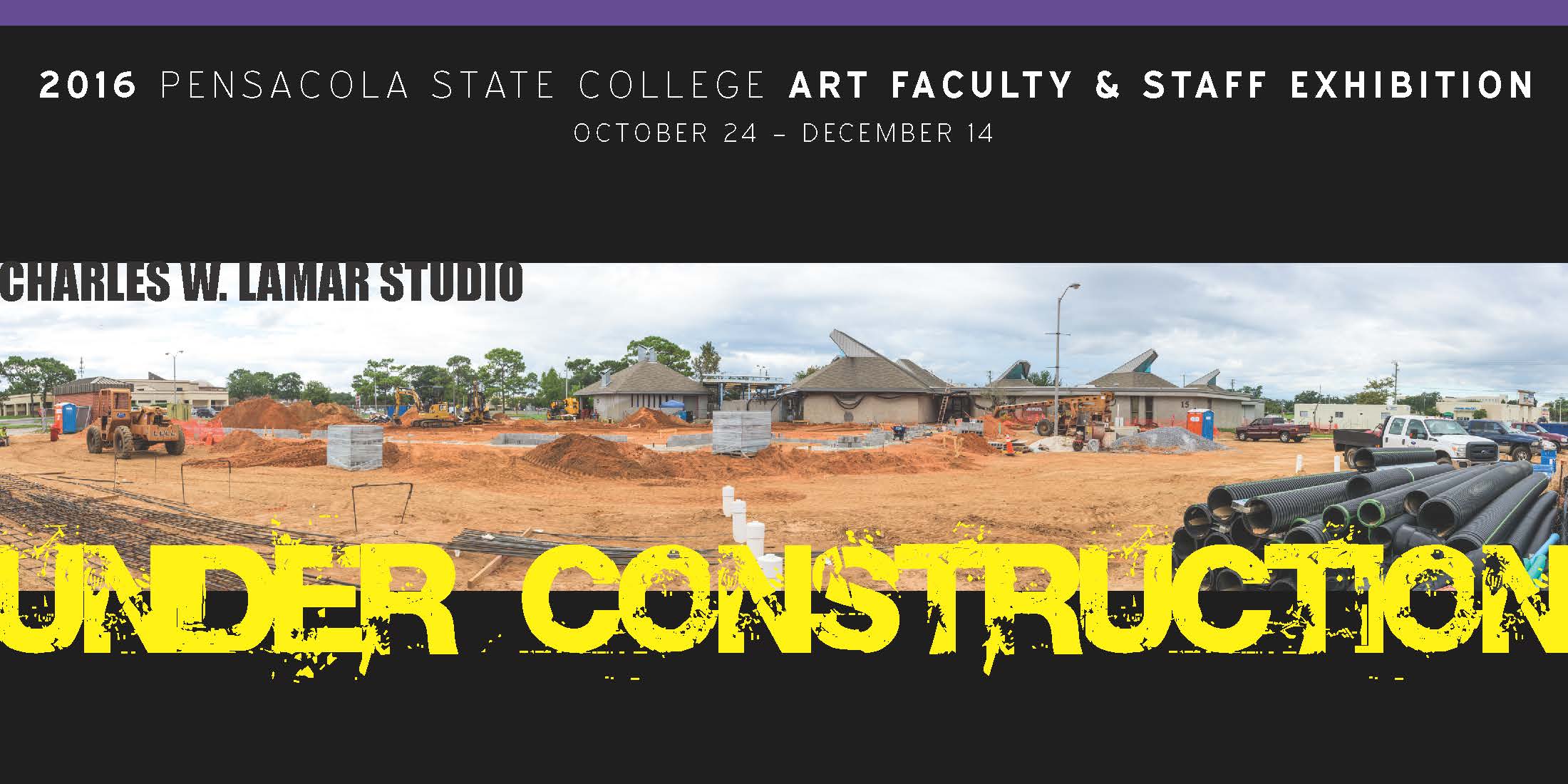 Art Faculty Exhibition Features Select Works from 25 Artists
Hardhats are not needed to explore "Under Construction," the Pensacola State College Art Faculty and Staff Exhibition that just opened at the Anna Lamar Switzer Center for Visual Arts, Building 15, on the Pensacola campus.
The public is invited to visit the exhibition through Dec. 14 and to meet the artists at a reception from 6 to 8 p.m. on Thursday, Nov. 10. Admission is free.
In celebration of the Charles W. Lamar Studio being built adjacent to the Switzer Center, "Under Construction" displays select works from 24 PSC artists and gives students and the community a look into their creative process.
The exhibition also features works in memory of Visual Arts Professor David Hinds who passed away unexpectedly in July 2016. From the time he joined the PSC faculty in 1983 until his retirement in 2014, Hinds was a respected artist and beloved teacher who shared his passion for art history with students at PSC while also continuing with his original artwork.
A perennial favorite, the annual art faculty exhibition covers an extensive array of media including ceramics, drawing, digital imaging, graphic design, jewelry, painting, photography, sculpture and video.
PSC Visual Arts faculty and staff participating in the show are Michael Boles, Michelle Cornejo, Bill Clover, Larry Lou Foster, Mark Francis, Marilyn Givens, Mark Hopkins, Julie McGrath, Andrea Moon, Devon Murphy, Linh O'Briant, Allan Peterson, Kristen Regan-Miller, Doug Reiser, Patricia Reppenhagen, Caitlin Rhea, Jimmy Rhea, Kelly Schmidt, Vivian Spencer, Warren Thompson, Ben Twingley, Holly Vaughn, Christopher White and Paula Work.
Gallery hours are 8 a.m. to 9 p.m. Monday through Thursday and 8 a.m. to 4 p.m. Friday. Tours are available with prior arrangements.
For more information, call the Switzer Center Gallery at 850-484-2550 or click on visualarts.pensacolastate.edu.