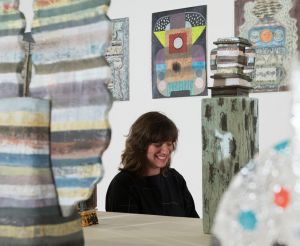 An exhibition of paintings, collages and ceramic sculptures by Sue Havens
August 15 – September 23, 2022
On display in the Switzer Gallery at the Anna Lamar Switzer Center for Visual Arts
Opening reception: Thursday, August 25, 5-7:30 p.m.
Artist lecture: Thursday, August 25, 3 p.m.
Events are free and open to the public.
Gallery hours and details: 850-484-2550
Based in New York and Tampa, Sue Havens received her Bachelor of Fine Arts degree from The Cooper Union for the Advancement of Science and Art in 1995 and a Master of Fine Arts in Painting from The Milton Avery Graduate School of the Arts at Bard College in 2003.
Havens received a 2008 Fellowship in Painting from The New York Foundation for the Arts and a 2017 McKnight Junior Faculty Development Fellowship.
Currently, she is an assistant professor of art at the University of South Florida in Tampa.
Havens' artwork has been exhibited internationally in venues such as The Knockout Center in New York, Galerie Nord in Berlin, The Museum of Drawings in Laholm, Sweden, Regina Rex gallery, Jeff Bailey Gallery, PS 122, Postmasters Gallery, Frederich Petzel Gallery, Art In General, Momenta Art, Sara Meltzer Gallery, OK Harris Works of Art, Pierogi Gallery, the Tampa Museum of Art and Mindy Solomon Gallery in Miami and others.
Havens also had a solo exhibition at The Marjorie Barrick Museum at the University of Nevada Las Vegas.
She has authored, designed and illustrated the book, "Make Your Own Toys," and her artwork has been featured in Andy Warhol's Interview magazine, New American Painting magazine and the Korean International Ceramic Biennale. Havens recently discussed her work at the National Council on Education for the Ceramic Arts.