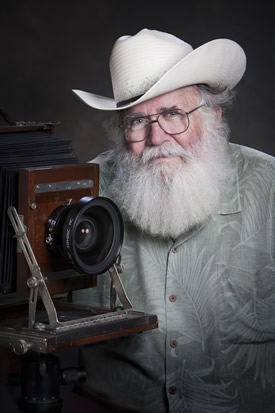 Clyde Butcher
The serene black and white print is typical of Clyde Butcher's photography. Regarded as Florida's finest landscape photographer Butcher has been documenting the untouched areas of landscapes on film for more than 50 years. Using a large format camera he hand processes his photographs on silver gelatin fiber-based paper. His photographs are selenium toned and printed in limited editions.
For more than 50 years, Clyde Butcher has been creating exquisite black and white photographs of the untouched natural landscapes of North America. Internationally renowned, his stunning photography transports the viewer into the primordial beauty of expansive horizons, endless vistas, and seldom seen splendor of the wilderness. His powerful images explore not only his own personal bond with the environment, but beckon us to our own personal communion with the natural world.
The scale and extraordinary clarity of his work sets it apart as exceptional. In the tradition of the nineteenth-century Hudson River School painters, Clyde composes his works at pristine and untarnished locations across the United States, creating arresting compositions that distinctly mark him as the foremost landscape photographer in America today.
Other Artists In Our Collection