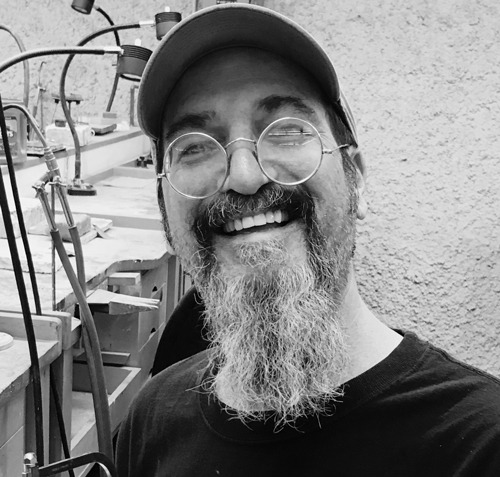 Doug Reiser
Jewelry Adjunct Instructor
Douglas Joseph Reiser, AKA, Diamond Joe, was born on April 30th, 1959 in New Orleans Louisiana. His primary medium is in the field of metalsmithing and jewelry. Prior to attending college at the ripe age of 30, Douglas was a professional airbrush artist for over a decade. His interest in art started early in high school and his inspiration to teach was guided by him wanting to be the kind of teacher he would have liked to have had earlier in his own life. He has been an Adjunct Professor since 1999 at Pensacola State College and the Head Jeweler at Antiquarian Jewelers since 2001.
Douglas obtained his BFA at The University of Wisconsin/Madison and his MFA at the University of Oregon. While still involved in making one of a kind Art Jewelry, Douglas is also currently exploring illuminated sculptural wall pieces.
Douglas's jewelry expertise includes antique restoration, enameling, casting, fabrication, diamond setting, and hand engraving.