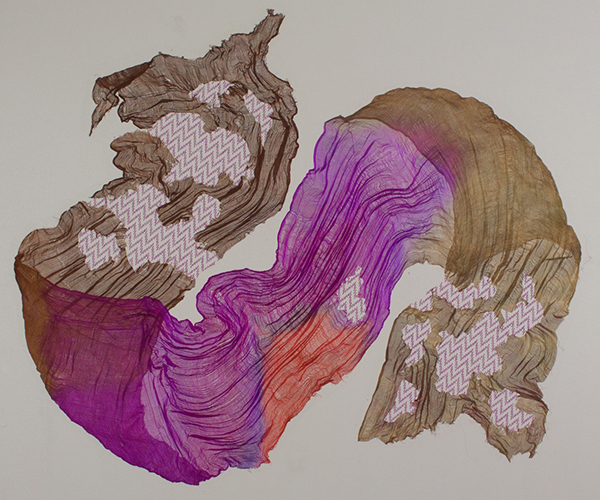 Pensacola State College will host a presentation by Scott Andresen, this year's Pensacola Foo Foo Festival "Rhythm & Canvas – A Celebration of the Arts!" artist, on Tuesday, Nov. 7.
Andresen's Artist Lecture on his exhibit, "I Carry My Landscape with Me," will be at 5 p.m. in the Anna Lamar Switzer Center for Visual Arts, Building 15, Lamar Lecture Hall (Room 1513).  A reception will follow at 6 p.m. and the exhibit is on display through Dec. 15 in the Switzer Gallery.
Andresen's exhibition, lecture and reception are part of the 2023 Pensacola Foo Festival, set for Nov. 2-13. The Andresen presentation and exhibit are funded by the Foo Foo Fest and ACE – Art, Culture and Entertainment Inc.
As a collage and mixed media artist, Andresen explores the themes of repair and the joining of the unlikely in his works. Providing insight into the creative process, Andresen's work hovers between two-dimensional abstraction and physical representation.
Andresen is an associate professor at Louisiana State University's School of Art, and lives and works in New Orleans. He received his Master of Fine Arts degree from Yale University and a Bachelor of Arts from Hunter College. He has had more than 50 solo and group exhibitions around the country, including the Lehmann Maupin Gallery, the New Orleans Museum of Art and The Bronx Museum.
Andresen has attended residencies at Black Rock Senegal, Socrates Sculpture Park, and the Joan Mitchell Foundation while receiving fellowships from the New York Foundation for the Arts and the Pollock Krasner Foundation. His work can be found in the permanent collection of the New Orleans Museum of Art and Museum of Arts & Design in New York.
Pensacola State College is at 1000 College Blvd., Pensacola. Gallery hours are 9 a.m.-5 p.m. Monday through Thursday, 9 a.m.-3 p.m. Friday, and by appointment. Tours are available with prior arrangements. Admission is free and open to the public.
For more information, call 850-484-2550.