PSC Alum, Steve Olesky receives Distinguished Alumni Award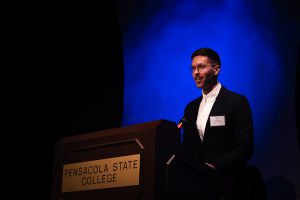 Saturday, May 4th, 2019, Pensacola State College Alumna, Steve Olesky was named the 2019 "Rising Star" Distinguished Alumni Honoree.
Steve Olesky found his passion at PSC where he studied graphic design for three years and went on to receive a bachelor's of fine arts from the prestigious Savannah College of Art & Design.
He credits supportive parents and family and some amazing professors for his life and career success. During his studies at PSC, Olesky brought home a Gold ADDY (American Advertising Awards) for editorial design/cover and two Silver ADDYs for stationary package and advertising/illustration. However, the capstone of his community college career was winning the Anna Lamar Switzer Award in 2007.
Olesky put his education to work and is now senior director of the digital creative department at Ralph Lauren Corp. —the exclusive Parade Outfitter for the U.S. Olympics and Paralympic Teams. There, he creates visual shopping experiences that blend content with commerce and has been responsible for designing the Olympic digital experience on ralphlauren.com from 2012-2018. He also was a Webby Award honoree of 2014 Ralph Lauren Polo Fall Concept Show.
Though he's reached a level of stardom in an extremely competitive field, Olesky hasn't forgotten his beginnings. He says that his foundation was formed at PSC — that everything he learned, he carries with him. On an upward career trajectory, the future looks bright for Olesky.
"Play. Experiment. Create. Learn continuously. Be inspired by others, but find your own style," is his philosophy.
For other content creators, it's a few baily's beads of wisdom: "It's not about how to reach the stars but how to become one through education and imagination."
Olesky and his wife, Lindsy, have two children, Asher and Elle, and reside in NewYork City.