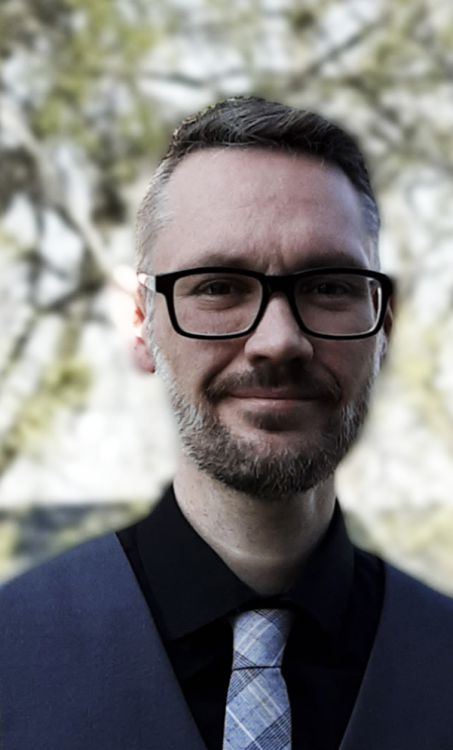 Brian Weaver considers himself fortunate that he found Pensacola State College.  He wasn't really aware of PSC – he's from Oil City, Pennsylvania after all – until applying for the position of Visual Arts Department head.
Now that he's here in the Department head position, Weaver wants to help ensure that more people find out about PSC and particularly the Visual Arts Department, which, he said, is one of the finest he's ever been affiliated with.
"What I've encountered at PSC has been phenomenal,'' said Weaver, previously an Associate Professor of Art at Texas A&M University. "The facility itself (Anna Lamar Switzer Center for Visual Arts) is just incredible and the instructors are just through the roof. I have not been part of any facility of this size. What we have here is special and I think the story of what we have needs to be told more and reach more people."
That's one of Weaver's goals – to increase the visibility of the PSC and the Visual Arts Department not only in the community but throughout the southeastern United States.
"We have a very well-established program,'' Weaver said. "We need to tell our story to a larger group to increase enrollment and give potential students opportunities to prosper."
Weaver is from Oil City, Pennsylvania, a city in the northwest portion of the state that was instrumental to the exploration and development of the petroleum industry.
"It was very eclectic, very historic and helped shaped my aesthetic sensibility,'' Weaver said. "It was the architecture, the history, the Colonial influence, the oil boom. I think it helped develop my interest in the arts and my strong passion for three-dimensional work and mixed media."
Weaver earned his Bachelor of Fine Arts with Teacher Certification with a concentration in Ceramics from Edinboro University of Pennsylvania College of Liberal Arts in 2005.
He graduated magna cum laude with a Master of Fine Arts from the University of Florida in 2011.
Weaver taught at Texas A&M from 2018 until earlier this year. He taught more than 50 courses, ranging from ceramics and three-dimensional design to sculpture and figurative drawing.
Now at PSC, Weaver said he wants to "build on the success we have and ultimately grow the program. It's an exciting place to be a part of."
He said that even though the summer student population is much smaller than it will be in fall, he already can see the excitement that students and faculty have for the department.
"Students are here in the morning and are eager to engage with their instructors,'' Weaver said. "And the instructors are engaged with them. I want to help them (the instructors) as well. I want to empower them and help them continue on their own trajectories as passionate artists."
Weaver's wife, Chelsea Weaver, is also an artist and recently was hired as an art instructor in the Escambia County School District. The couple has two dogs, which Weaver claimed are "very spoiled."