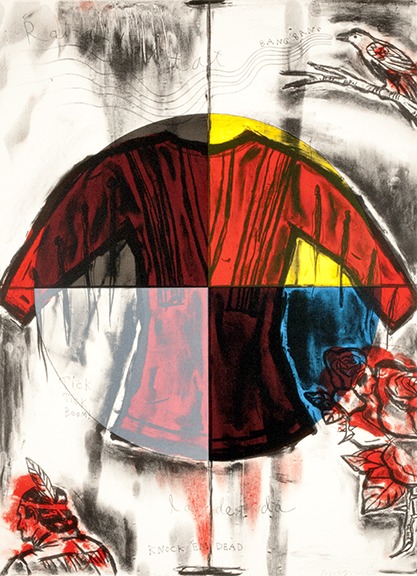 THEATRES OF WAR
Date: 2007
Category: Painting
Medium: Lithograph
Item #: 443.11.PR
Jaune Quick-to-See Smith states, "Theatres of War is a phrase used in WWI–I did this during Bush's reign and Rumsfeld who made war sound like a video game. The bird sings like a machine gun and I used titles of Broadway plays in the ground. This is an Indigenous war shirt now used for peaceful ceremonies and it is covered by a symbol of the 4 directions–with my tribal colors of the four directions–every tribe has their own colors. I laid them over the top of the war shirt like a stained glass window."
(from http://accolagriefen.com/artists/jaune-quick-to-see-smith)
Jaune Quick-to-See Smith's art presents a cross-cultural dialogue between those values and experiences of her inherited past and those of late-20th-century Euro-American culture. A painter of Salish, French-Cree, and Shoshone heritage, Smith was born in St. Ignatius, Montana, and raised on the Flathead Reservation. She became an artist while in her 30s, and was already earning a living as a painter before she completed her M.F.A. degree at the University of New Mexico. Deeply connected to her heritage, Smith creates work that addresses the myths of her ancestors in the context of current issues facing American Indians. She states, "My art, my life experience, and my tribal ties are totally enmeshed. I go from one community with messages to the other, and I try to enlighten people." Over the past two decades, she has become one of the best known American Indian artists in a ground-breaking generation that includes herself, George Longfish, Hachivi Edgar Heap of Birds, and others.