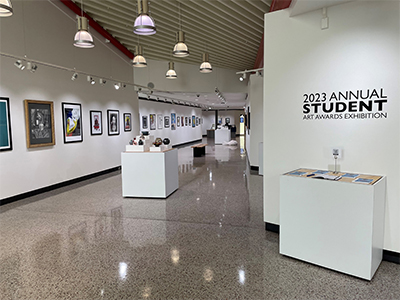 The stellar work currently displayed in Pensacola State College's Anna Lamar Switzer Center for Visual Arts looks very professional.
Yet all 100 artists featured in the exhibition are Pensacola State students.
The annual PSC Student Art Awards Exhibition opened on April 3 and runs through May 5 in the Switzer Gallery. An opening reception and awards presentation are set for 5 p.m. Thursday, April 13, when students will be honored for their work.
PSC Visual Arts Department instructors select the students and the pieces included in the annual exhibition.
The exhibition features artworks in various media, including ceramics, drawing, painting, digital design, photography and sculpture.
"We have talented students here at PSC, and (the exhibition) showcases a nice variety of their work and abilities,'' said PSC Gallery Director Chelsea Weaver. "It's a demonstration of everything they're capable of."
She said that the exhibition is a great opportunity for the students.
"The 2023 Annual Student Art Awards Exhibition celebrates the success of our learners and empowers our students by proudly showcasing their knowledge, talent and skills in a professional exhibition setting,'' Weaver said. "Furthermore, our students are able to experience and appreciate the work of their peers, encouraging academic discussions with like-minded individuals and fostering a collaborative and supportive learning community."
Aubrey Dean won Best in Show at the 2022 Student Art Awards Exhibition gala. She is now a graphic arts designer with the PSC Marketing Department.
"It was such an honor,'' Dean said of the award. "I am so thankful to be a part of the graphic design program at Pensacola State College and learn under the best teachers, mentors and classmates."
There is no charge for admission to the Anna Lamar Switzer Center for Visual Arts.
For more information, call 850-484-2550.