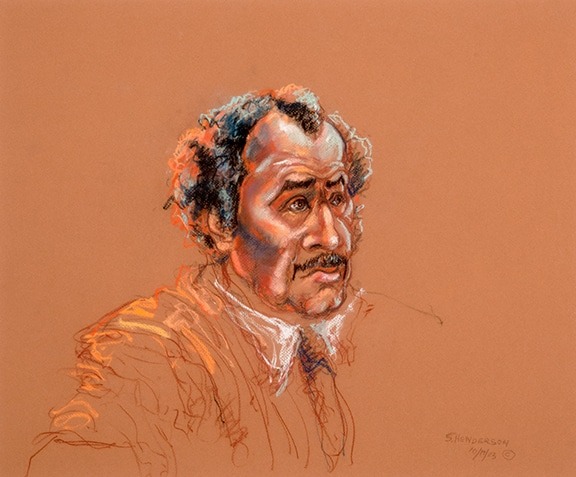 HASTINGS TELLS HIS STORY
Date: 1983
Category: Drawing
Medium: Pastel on paper
Item #: M.421.10.DR
HASTINGS TELLS HIS STORY, is one of several courtroom drawings depicted during the trail of Judge Alcee Hastings. The drawing became part of a series exhibited at the Art and Culture Center in 1983 in an exhibition entitled, Moving Pictures: The Trial of Judge Alcee Hastings.
A synopsis from the tribute, written by Shirley Henderson to Alcee Hastings –
"A Dedication: To Alcee Hastings There's a terrible irony to the phrase, the trial of Judge Alcee Hastings.
Indeed, it was a trial in many ways: for the judge, for the American judicial system, and for me as an artist attempting to capture the truth of what happened in the courtroom. The idea of communicating the truth of things through art has obsessed me since I was a child. The two years I've spent as the courtroom artist for News Four have added a new dimension and put a new perspective on this question. It was never focused more clearly than during the trial of Judge Hastings.
In the course of the trial I tried to capture the many faces of Alcee Hastings – judge, defendant and defense attorney in his moments of courage, anguish, doubt and, eventually, vindication. If I have succeeded, then it is perhaps less my success as an artist than his dignity and strength as a human being…"