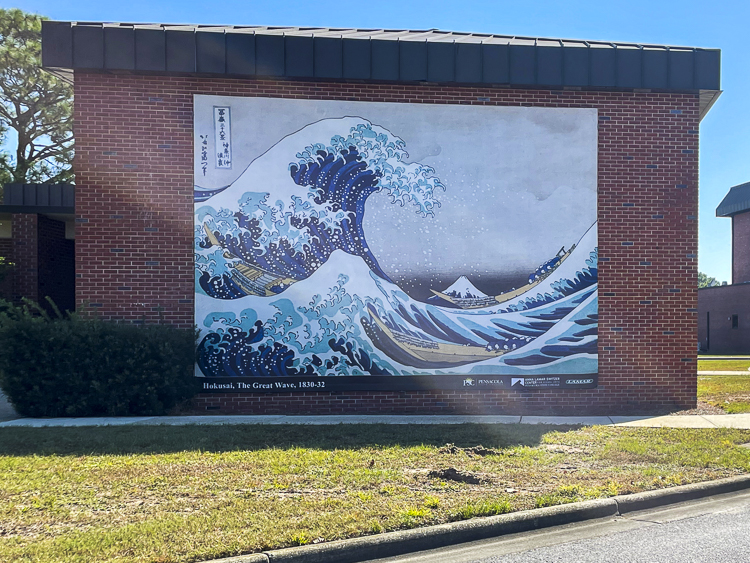 The Great Wave off Kanagawa
Date: 1831
Category: Print
Medium: Vinyl reproduction of original (woodblock print)
The Great Wave off Kanagawa is located on the Allen Liberal Arts Building #4 facing Ninth Avenue.
The Great Wave off Kanagawa (Japanese: 神奈川沖浪裏, Hepburn: Kanagawa-oki Nami Ura, lit. 'Under the Wave off Kanagawa') is a woodblock print by Japanese ukiyo-e artist Hokusai, created in late 1831 during the Edo period of Japanese history. The print depicts three boats moving through a storm-tossed sea, with a large wave forming a spiral in the centre and Mount Fuji visible in the background.
The print is Hokusai's best-known work and the first in his series Thirty-six Views of Mount Fuji, in which the use of Prussian blue revolutionized Japanese prints. The composition of The Great Wave is a synthesis of traditional Japanese prints and use of graphical perspective developed in Europe, and earned him immediate success in Japan and later in Europe, where Hokusai's art inspired works by the Impressionists. Several museums throughout the world hold copies of The Great Wave, many of which came from 19th-century private collections of Japanese prints.
The Great Wave off Kanagawa has been described as "possibly the most reproduced image in the history of all art", as well as being a contender for the "most famous artwork in Japanese history".It has influenced several notable artists and musicians, including Vincent van Gogh, Claude Debussy, Claude Monet, and Hiroshige.