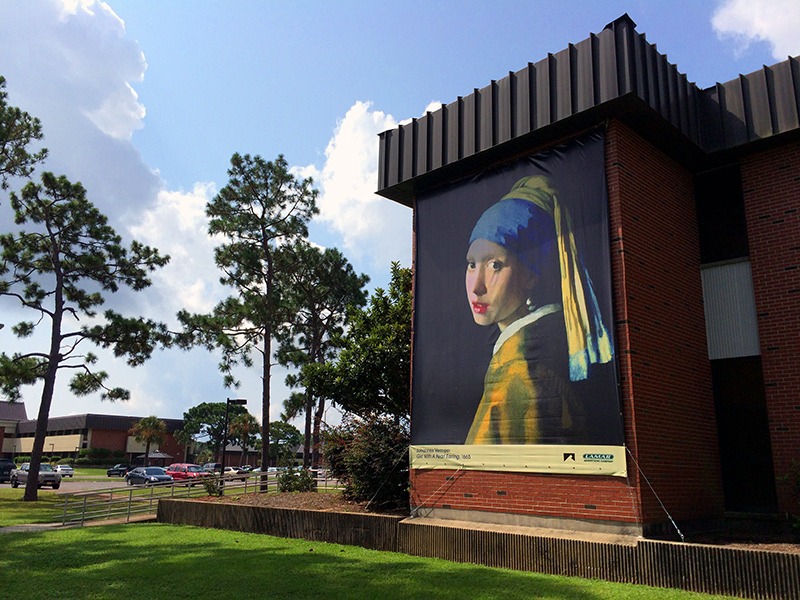 Outdoor Gallery Collection
Pensacola State College has opened its new outdoor gallery with a 15-foot wide by 20-foot tall reproduction of the Dutch masterpiece, "Girl with a Pearl Earring," hanging from Building 14 on PSC's Pensacola campus, and visible from 9th Avenue.
PSC Visual Arts Department Head Krist Lien says this 17th century painting by Johannes Vermeer, which resides at The Hague in the Netherlands, was chosen for display because of its recognition factor.
An image from famed National Geographic photographer Steve McCurry will go up next on another building. Lien says the college plans to cover several buildings with a variety of works ranging from the masters to contemporary artists to PSC's own award winning students.
"Lamar Advertising partnered with us to create these huge prints," Lien says. "They are doing a fantastic job. When you stand close to the print, you can see the fine details that are on the actual painting. "
"We want this to be a fun way for the community and our own students and staff to be able to walk or drive through the campus and experience great art on a large scale."
When Lien was researching the concept of an outdoor gallery, he couldn't find anything like the display that PSC is creating. He believes PSC may be the first college in the nation to have this type of outdoor gallery.
Working out the details of hanging the huge art pieces securely on the buildings took almost two years, but Lien says the support of the PSC administration and Board of Trustees was immediate.
"It was a pleasure to support such an innovative project and exciting to watch the first piece being installed," said Vice President for Academic Affairs Erin Spicer.
"Due to the vision of our Visual Arts head, Krist Lien, as well as the cooperation of our good friends at Lamar Advertising, we are able to print these large-scale reproductions and make these pieces of art accessible to the community."
Artwork In Outdoor Gallery Collection
Artists In This Collection