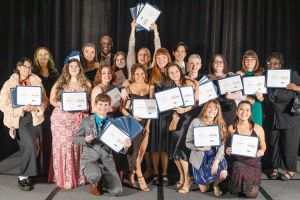 Eighteen Pensacola State College graphic design and photography students won a total of 69 ADDY Awards at the 2023 Pensacola American Advertising Federation Awards Gala held Feb. 10 at the Hilton Pensacola Beach.
The students won 26 gold and 42 silver awards. Casey DeLong won one of three Judges Awards along with two gold and six silver ADDYs. Jennifer Manare won 10 ADDYs ─ five gold and five silver awards.
Gold winners will automatically advance to the AAF District 4 Annual Conference competition set for May 11-13 in Orlando. Silver award winners also can enter the District 4 competition if they pay a fee.
"There were about 100 awards today, and, as usual, we won more than half,'' said PSC graphic design instructor Mark Hopkins.
"These awards are professionally judged, and to win a gold or silver is a big boost for a resume."
Other PSC ADDYs winners are:
Lindsi Hicks – 4 Gold
Jacey Bowen – 3 Gold, 6 Silver
Richard Smith – 3 Gold, 5 Silver
Alana Cox – 2 Gold, 6 Silver
Ralitsa Mihaylova – 1 Gold, 3 Silver
Katelyn Post – 1 Gold
Sherrie Drisdell – 1 Gold
Micala Mathews – 1 Gold
Megan Rathmann- 1 Gold
Isabelle Dupuis – 1 Gold, 4 Silver
Danielle Carroll – 1 Gold, 1 Silver
Charlotte Blessing – 1 Silver
Maria Tirado – 1 Silver
Amy Athans – 2 Silver
Autumn Notley – 1 Silver
Hannah Allison – 1 Silver